Is Finding A Cheap Driving School In Meadow Heights A Tough Task?
If you want to learn the best driving skills from professional instructors then you need to be very careful. There are many driving training centres that advertise and publish that they are the best in the industry. But the thing is another way around. Hence making the best possible decision that turns out to be in your favour should be your main priority. Therefore you should not make the mistake of thinking that enrolling in a cheap driving school in Meadow Heights is an easy task.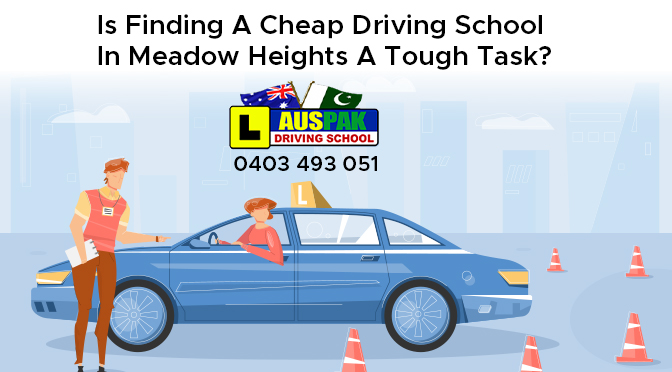 Those learners who had taken things lightly mostly ended up enrolling in the right training centre. Due to this, they not only wasted their money and important time but also failed to pass the driving test. So if you want to know how you can be successful in finding the best driving school that offers cheap driving lessons in Meadow Heights then you can follow the tips that are mentioned below.
Ways In Which You Can Find A Professional Driving School
Finding a good driving school for a cheap driving lesson is not a tough task if you will do your homework smartly. So your first aim should be to find out about the training centre that specialises in offering the best driving lessons at a reasonable price. Getting some good references and doing online research are two simple ways in which you can do it.
Visiting the driving training centre to get clear knowledge is one of the smartest decisions you can make. By visiting the cheap driving school in Meadow Heights you will have the right idea about the kinds of vehicles they have to offer practical lessons, things they have installed in the classroom to provide theoretical lessons, efforts they have taken to maintain their centre, etc.
It is better to check whether the driving training centre is insured and certified to offer the lessons or not. Make sure that the documents they are showing are valid and up to date.
Don't forget to ask about the kind of warranty the instructors are offering or you will end up regretting it at a later stage.
You also need to check whether they are offering the kind of cheap driving lessons in Meadow Heights that you are looking for. There is no need to compromise anything if you want to become a professional and reliable driver.
Hence if you will carefully follow the tips explained above then you won't have to make any hard effort to find a cheap driving school in Meadow Height. You can easily hire expert instructors for your driving lessons.
Auspak Driving School is the right destination for all those who are looking for professional instructors who specialise in offering cheap driving lessons. Our team is highly trained and has always been successful to exceed the expectations of the learners. Helping them to pass the driving test with good grades and get the licence is what we have been doing for years. To connect with the experts of our cheap driving lessons in Meadow Heights you can give us a call or send an email.