Driving School Roxburgh Park
Experienced Driving Instructor in Roxburgh Park
AusPak Driving School offers the best driving lessons in Roxburgh Park. Our certified driving instructors have highly professional attitude and great knowledge about all driving rules and regulations.
We can provide automatic driving lessons in Roxburgh Park at your availability. You can use our car, used in your affordable driving lessons, for your driving test as well.
Dual Control Vehicles to Use for Driving Lessons in Roxburgh Park
At Auspak Driving School,  our driving instructors in Roxburgh Park are multilingual and proficient in English as well.
You can take lesson in the language you feel comfortable with. AusPak Driving School aims to ensure that you pass you test in the first attempt in Roxburgh Park.
We also deliver driving lessons in many other major suburbs of Melbourne like Craigieburn, Fawkner, Hadfield, Moonee Ponds, Pascoe Vale, Thomastown and many more.
The Best Driving School in Roxburgh Park
Are you looking for a driving school in Roxburgh Park that offers lessons to help you become a professional driver and get you through the licence test? It's time to get yourself registered at Auspak Driving School where we have multilingual instructors ready to provide you with the lessons. Along with that, we have female instructors in our teams. So, if you want to learn to drive from them in a safe environment, you just have to tell us, and we will set the driving sessions likewise.
Our driving instructors are accredited and have the necessary experience to teach learners of all ages. Moreover, they can speak English, Hindi, Urdu and Punjabi. Therefore, you can choose to take up the lessons in any of these mediums and become a proficient driver.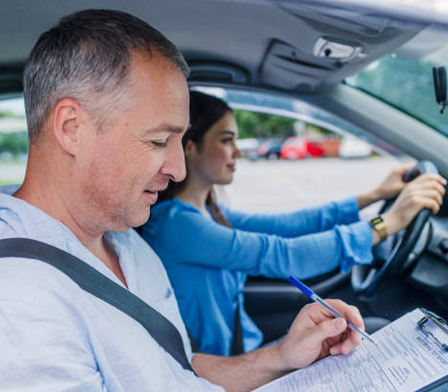 Friendly Instructors to Teach You Driving Step by Step
Our driving instructors are friendly, and they understand the needs of our students. Moreover, they provide you with the driving lessons in Roxburgh Park step by step so that you can learn them easily and develop the skills quickly and efficiently.
The instructors will focus on Victorian Road Laws. They will also make the sessions interesting so that you don't get bored. At the same time, they will tailor the driving lessons based on your learning capabilities.
In our driving sessions, you will get enough tips to pass the licence test easily. The instructors will prepare you for the test by providing you with real-world examples along with the theory that you need to know to drive safely and responsibly.
USPs of Our Roxburgh Park Driving School
Our driving school is one of a kind since we uphold multicultural learning. Besides,
We have a large team of accredited driving teachers
Our instructors can teach in English, Urdu, Punjabi and Hindi
We always strive to develop driving skills to make you a safe driver
We provide female driving instructors should you choose to learn from them
We teach driving in a safe environment and in a dual controlled vehicle
Our instructors customise the lessons to make the sessions easier
Start learning from us today and drive your car with confidence.
Extra Reasons to Learn Driving From Us
Start learning from Auspak Driving School since
The instructors at our driving school are Keys2Drive accredited
The instructors teach driving patiently
You will get many tips to pass the licence test
Our driving lessons will not burn a hole in your pocket
Call us or send an email today if you want to book a driving session.
Learn Driving from Responsible Instructors
To start learning from the responsible driving instructors at our cheap driving school in Roxburgh Park, call or send an email to us at Auspak Driving School and our professionals will get back to you quickly.
Female Driving Instructor Melbourne Call Us on 0403 493 051